| | |
| --- | --- |
| | Setup Stock Tracker Server App |
Once SQL Server has been setup and the PST5 database has been setup the Palace Stock Tracker Server app must be installed and setup.
The server app is used to:
Manage and direct client connections to SQL Server databases.
Log operator activity.
Store and serve attachment files (i.e. items, contacts and scanned drop sheets).
Store and serve special files (e.g. invoice header image, Gift Aid declaration form).
Notes:
SQL Server must be already setup with the PST5 database.
The server app must be running all of the time (it does not currently run as a service).
The server app does not have to run on the same server that hosts the SQL Server database but only 1 copy of the server app should be running.
Download and Install Stock Tracker Server App
Download the Palace Stock Tracker server app from the download page.
Install the app.
It is recommended to manually place a shortcut in the startup folder (Start -> Run -> "shell:startup").
It is recommended for the server to logon automatically (LogonExpert is a good secure solution for this).
Setup Firewall
Allow incoming connections on TCP port 214 for private and/or domain connections.
Configure the SQL Server Database Connection
Open the Palace Stock Tracker Server app.
Press the Database Settings button.
Enter the server name or IP address in the top Server Name or IP Box.
Do not type "localhost" or "127.0.0.1" into the box because the server name is sent to clients when they login.
Make sure the server name can be resolved by all clients, especially if they are connecting via VPN and cannot resolve NETBIOS names. In this case enter the server's internal IP.

Press Save to close the Database Settings window.
Restart the app.
Configure Files Root
The Files Root is the folder which stores all attachment files, operator log files etc.
The default path is "%ProgramData%\Palace IT\Palace Stock Tracker Server\". To change this to another existing path, press the Change button and restart the app.
Ensure to add the Files Root path to your backups.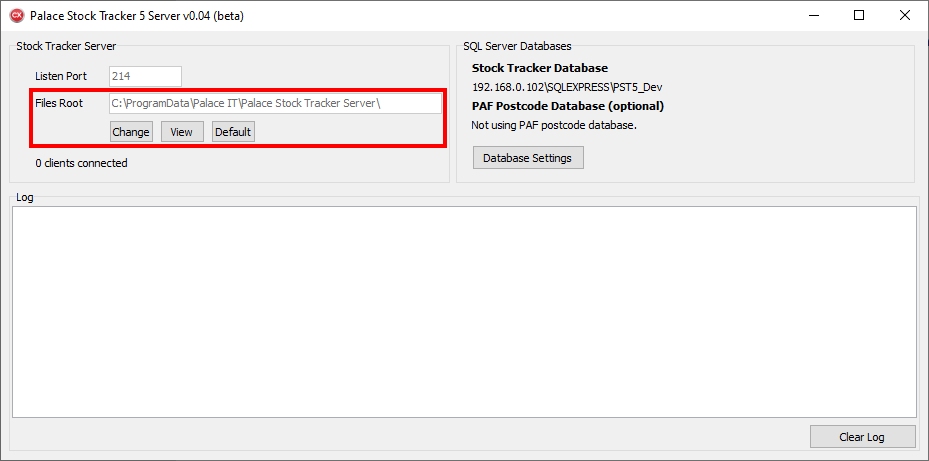 Import Stock Tracker 4 Operator Logs and Attachments
The folder structure is identical to Stock Tracker 4's "server root". To migrate simply copy the contents of the old data root into Stock Tracker Server's Files Root (except the Access database PST4.mdb and lock file PST4.ldb).
Recognised files include:
Attachments\ folder
GiftAid\ folder
Logs\ folder
banner.bmp
banner_bottom.bmp
Stock Tracker Server will automatically stream files both ways via TCP on-demand so there is no direct exposure to the files from the clients.
If you are upgrading from Stock Tracker 4 and have mapped drives or UNC paths to the server, these are no longer needed and no special file permissions are needed.
It is also now possible to scan and attach files remotely with no special setup as they are sent directly to the server.