Palace Stock Tracker 5 Documentation
| | |
| --- | --- |
| | Database Administration Area |
Palace Stock Tracker is highly configurable via the Administration area to such an extent that it can be tailored to work around almost all furniture reuse organisations. The settings in this area affect all of the users/computers connecting to this database and is password protected.
To Enter the Administration Area
From the login screen select the database to administer and press the Admin button.
Enter the username and password when prompted (these are both set to "admin" by default, the password should be changed after the first login for security purposes).
Click Login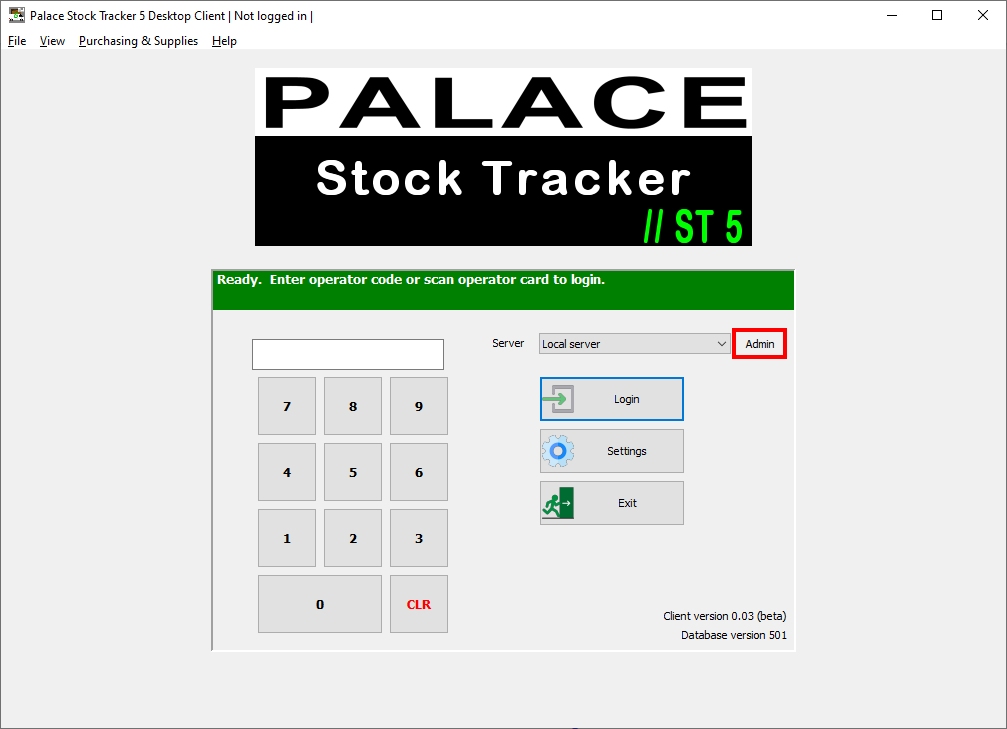 Administraion Area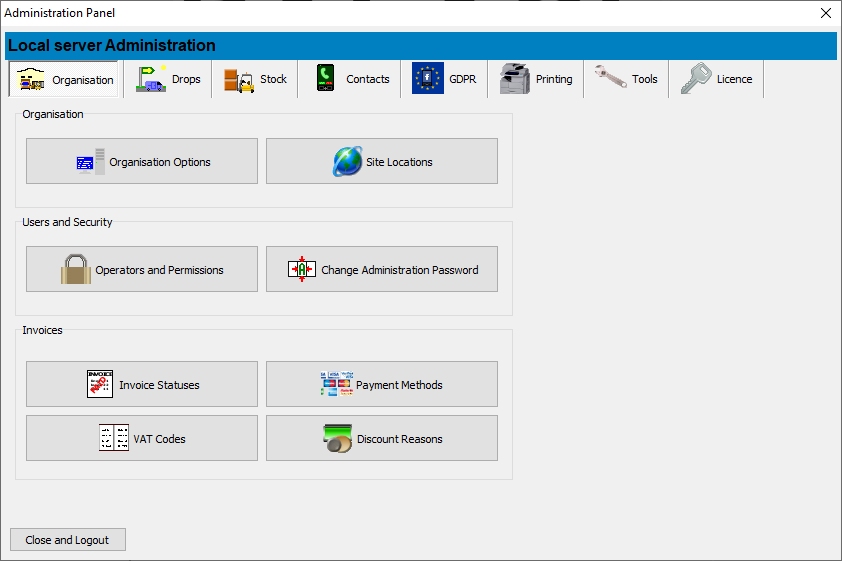 Use the Administration Area to Globally Change...
Organisation tab
Organisation Options - Change a huge number of organisation options including company name, address, invoicing preferences, transactions logic, default new item categories and more, drop sheet footer, drop receipt summary.

Sales and Payments options
Site Locations - Add and change site locations and customise text on till receipts.

Location Editor
Operators and Permissions - Manages operators and detailed operator permissions to control how operators access this database.

Operator Editor
Change Administration Password - Change the password used to login to the Administration area.
Invoice Statuses - Change and configure properties for item statues.
Payment Methods - Change and configure available payment methods.
VAT Codes - Change, configure and update VAT codes.

VAT codes
Discount Reasons - Change the list of available discount reasons.
Drops tab
Vans - Manages vans including each van's maximum items, weight and drops (used for the capacity graphs within the Deliveries and Collections area).

Vans
Drop Time Slots - Manages available collection and delivery time slots.
Drop Options - Change drop options (custom tick boxes which appear in each delivery/collection drop).
Day Options - Change day options (custom tick boxes which appear in the daily diary in the Drops section).
Stock tab
Item Categories, Types and Templates - Manages categories and types/templates for items including default weights and prices.

Item Type Editor
Item Statuses - Manages item statuses, the status of items is changed as they work through an organisation. For example "Council 1 - Awaiting Collection", "Council 2 - Awating Collection", "Stock", "Sold" etc.

Item Statues Editor
Item and Contact Attachments - Change item and contact file attachment type templates.
Services Templates - Change and configure available services and pricing (e.g. "Delivery" or "Fitting"). Services can be added to invoices.
Contacts tab
Contact Types - Change contact categories.
Contact Statues - Change the list of statues that can be applied to each contact.
Hear Sources - Change "Where did you hear about us?" list.
Regions List - Change list of available regions.
Countries List - Change list of available counties.
Agencies List - Change list of available referring agencies.
Ethnicities List - Change list of available ethnicities.
Benefits List - Change list of available benefit types.
GDPR tab
GDPR -> Contact GDPR Statuses - Change list of available contact GDPR statuses.
GDPR -> GDPR and Data Anonymisation Options - Advanced options to configure the contact and scanned drop sheets anonymisation tools.

GDPR Options
Printing tab
Printing -> Barcode Label Templates - Edit every aspect of every type of barcode label includling item, electrical test, service, contact, operator login and sold labels. Labels can be edited at the lowest level using the EPL printer language.

EPL label editor
Tools tab (for advanced users)
Tools -> Clean up Contacts - Clean up contacts (removes whitespace from contact fields).
Tools -> Missing Address Finder - Finds items and invoices with no address linkage (not even the default empty record).
Tools -> Item Date Discarded Checker - Check for items where the invoice dates differ from discarded dates (differences can affect some third-party or custom reporting tools).
Licence tab
Stock Tracker Licence - Change the licence or installation key for this database.
See Also