Palace Stock Tracker 5 Documentation
| | |
| --- | --- |
| | Setup Postcode Database (optional) |
To import postcode data your organisation needs to register for Royal Mail PAF (this is free for charities and microbusinesses)
More information here.
| | |
| --- | --- |
| | Importing the PAF database can take several hours and may affect server performance. |
Create Database
Open SQL Server Management Studio and login.
Right click Databases -> New Database… -> Database name = "PAF".
Press OK.
Create User
Expand SQL Root\ Security\Logins -> right click New User….

Login name: "PAF"
SQL Server Authentication
Password: (contact Palace IT for password)
Uncheck Enforce password policy, Enforce password expiration and User must change password at next login.
Default database: "PAF"
User Mapping (left side): Tick PAF | User: PAF | Default Scehma: dbo

Press OK to save user.
Import CSV
Extract your own Royal Mail PAF CSV file to a folder on the server (not on Desktop or Desktop subfolder).
Right click Databases\PAF -> Tasks -> Import Flat File...

Introduction window
Next >

Specify Input File window
Browse to file
New table name: "PAFData"
Next >

Preview Data window
Next >

Modify Columns window
Enter the colmns exactly as shown in the image below....


Next >
Setup Stock Tracker Server App
Open the Stock Tracker Server App and press Database Settings.
In the Royal Mail PAF Database section enter:

Server Name or IP: (name or IP of the SQL Server hosting the PAF database).
SQL Server Instance Name: "SQLEXPRESS".
Database Name: "PAF".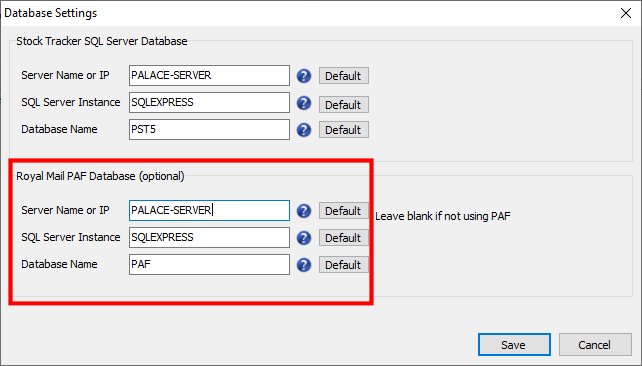 The next time a client logs in the postcode features will be automatically enabled.